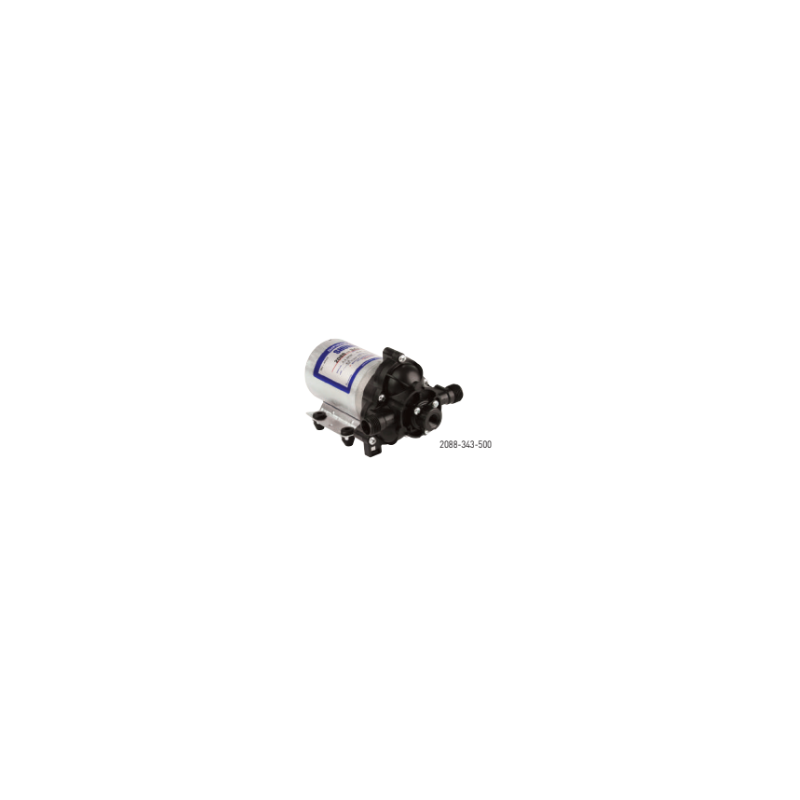  
SHURflo Pump 2088-343-500
Shurflo® 2088 Series diaphragm pumps deliver reliable performance in high flow, moderate pressure applications. They are used in a variety of spraying and transfer applications that require flows of up to 4.0 GPM [14.4 l/min]. 
Self-Priming up to 12 Vertical Feet [3.7M]
Chemically Resistant Materials
Automatic Demand
Built-In Check Valve (May Vary by Model) to Prevent Back Flow of Fluid
Supported for agriculture
SPECIFICATIONS
12 V DC
60 psi
OPEN FLOW GPM 3.3
Control type : none
AMPS (MAX) : 10
PORTS : 1/2"-14 NPSM
Housing material : Polypropylene
Valve material : Viton
Diaphragm material : Santoprene
CAM : 3
Motor finish : Zinc
Motor wiring : 16 AWG wires w/SW
Feature of SHURFLO 2088 Series 12 Volt DC Water Pumps
Self-priming up to 3.7m

Chemical resistant materials

No-load operation without deterioration

Automatic pressure switch

Built-in non-return valve (different depending on the model) preventing the liquid from returning to the solution tank

Uninterrupted motor operation on the fin-cooled version
SHURFLO 2088 series diaphragm pumps stand out for their reliable performance in high flow and moderate pressure applications.
Used for different types of spraying including direct, multi-nozzle and ground fertilization requiring up to 13.6 l/min of flow, they are available in several chemical resistant materials.
Distinctive, tapered valve design allows for high flow rates at maximum discharge pressures, making the 8000 Series the pump of choice for sprayers used on the farm or on the farm.
Powered by 12 Volts DC, these pumps deliver up to 11.35 L/min to give optimum performance in a wide variety of applications.